AIDA DAS CLUB AidAaura- Montego bay Cruise Excursions
AIDA DAS CLUB AidAaura Cruise Ship
Capacity:1687 Persons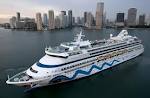 AHOY!!!, we welcome all AIDA DAS CLUB AidAaura Cruise Ship Passengers to Montego bay, Jamaica. We hope your Short visit to the Port of Montego bay will your best stop on your Western Caribbean Cruise.
Montego bay ,offers a diverse and excellent variety of Shore excursions and activities to captivate and intrigue you our AIDA AidAaura cruisers. There is enough to do for Cruisers of all ages and activity levels. From Mayfields Falls , negril beach break, Dunns river falls snorkeling, scuba diving, shopping, water sporting Activities, Montego bay , All-inclusive resort day pass, parasailing, land tours, horseback riding or special Adults Only Resort Day Pass, Beach trips , AIDA DAS CLUB Cruise, Excursions Montego bay has it all!
Montego bay Cruise Excursions offers a variety of options for you to choose from. Our rates are directly from the operators which allows you a huge savings on your excursion choice while providing you with a Extended selection of shore excursions to choose from.
Montego bay Shore Cruise Excursions recommendations are excursions for AidAaura passengers for your visit to Montego bay Jamaica based on the AidAaura arriving times, departure time of the AIDA DAS CLUB AidAaura Caribbean Cruise Ship as well as the length of your visit in our Port. We also take into account the number of Cruise Ships arriving in the port of Montego bay on the same day your as the AIDA DAS CLUB AidAaura. We then can provide you with options on how to avoid the busy excursions when this is appropriate.
Please have a look at our Recommended AIDA AidAaura Excursions and Tours. If you don't find what you are looking for, use the CONTACT US links on this page to get in touch with us we will respond within 24 hrs.
Recommended Shore Excursions:
We are working assiduously to bring you the best tours and Attractions available in Montego bay, Jamaica.
Montego bay is distinctively situated in an ideal location that provides access to incredible sea and land adventures.
While Our specialization are in personalized and boutique tours we do Provide our "More at Shore " large Group excursions, offering tremendous value for some of the most popular tours. Express Jamaica Travel offers tours and excursions for almost every budget and individual need.
Montego bay Cruise Excursions are tour and excursions our experts have compiled representing the best private operators in Montego bay, Jamaica. We provide Direct information on each and every excursion. we offer and recommend the excursions that work best for you. That's the Express Jamaica Travel distinction!
SHORE TOURS AND CRUISE EXCURSIONS IN MONTEGO BAY
This exclusive beach Trip includes an city Sightseeing with After Shopping Trip, beach chairs and is Offered on Montego bay and Montego bay Ports!
You will love the Tourist Town of Negril Jamaica, the laid back area of negril Seven (7) miles of Beach All the Famous Hotel properties along this beautiful place. Book early as spaces are limited.
Spend your day in port at one of Jamaica's finest Family All Inclusive Resorts. This Express Travel Jamaica Exclusive gives you all you can eat Unlimited Meals, a Snack Bar, free open bar, beach towels, non motorized water sports, pools, a White sand beach,Water Park Slides for the kids and so much more.
Are you a "PRUDE" or are you a " RUDE" ,Express Jamaica Travel is proud to be the Exclusive Online Portal to Nudist Adults Only All Inclusive Resort Day Pass. Enjoy wonderful dining options, great cocktails and the atmosphere of Express newest excursion offer,Hedonistic Curiosity "Swingers Paradise".Book early Limited space
No trip Jamaica is complete without your visit to one of the World's most beautiful Waterfalls ,The Dunns River Waterfalls Explore the natural beauty East of The Port of Montego bay Explore the natural beauty of Ocho Rios Jamaica. see sights in Montego bay Jamaica before you reach the Dunns river waterfalls .
Our Professionally Trained Tour Guides will help you discover all the Eccentric Tempo of the Tourist City Montego bay. Explore the "HIP STRIP", beaches,town center, Historical sites, local Shopping areas, and other sights in Montego bay that few get to see. This is a unique tour offer!!!
Our Exclusive Private Tour to the Rocklands Bird Sanctuary gives you the most personalized Bird Experience . Our tour offers the you the opportunity to be away from the crowd. Authentic Bird lovers have used thisPrivate service,to really maximize and be at one with these creature , that which is very hard to do in a crowded tour. .
Our Montego bay , Montego bay Horseback Ride and Swim adventure Tour is Voted one of the Most Enjoyable Tour offer in Jamaica. This Tour is a favorite with the ladies. after a horse trail Ride you top it off with a beach swim with your animals.
Come with us for the very best River Rafting that Montego bay offers at the world famous Martha Brae's River Rafting . This Tour is a relaxing tour You Don't have to work a muscle , Your Trained Raft Captain will guide your vessel along the calm river. Great for the Kids .Montego bay offers you this as a gift to your relaxation .Book it Now!
Climb aboard our 40"feet' Catamaran and explore Jamaica's undersea life. Great coral viewing , snorkeling , On-Board Party and Games relaxing sailing combine to make this a unforgettable Memorable experience. * This is a Private Tour for your group only. Open Cocktail bar on-board. Departs from a town near Montego bay/Montego bay cruise ship ports.

Click Here for Booze Cruise Catamaran & Snorkeling Tour Info
Our Montego bay Jamaica River Tubing Tour is a Fun and relaxing where you float along a lazy river in Jamaica * Great for the kids, Jamaica's Clear Natural rivers within crystal clear waters. Our
Cave Exploration Tour Montego bay Stand in the Grotto's impressive chambers , where dripstone formations are illuminated see Pre-Arawak Indians left there art works, on the cave walls, view under ground lakes and subterranean water bodies.guided pathways used by runaway slaves in the 18th century!
Take adventure to the next level . Canopy,(zipline) Tranopy,Bobsled, Sky lift,all these rides in one theme park adventure. The park is next door to Dunns River falls so great to Book both as your COMBO TOUR ,you wont regret this Tour
What a Catch!!. Our boats and friendly and experienced captain and crew members will take you to the best fishing grounds in Montego bay and western Jamaica. Enjoy the Option of booking a half day fishing charter or a full day deep sea fishing charter. Snorkeling can be added as a combo.
Jamaica boast some of the world's best Golf courses , hosting prestigious golfing Tournaments,having the worlds's best gracing there Greens,Now we are offering you the opportunity to say i played the "white witch" or the Former home of The Johnny Walker Classics,"Tryall Golf Club" and many others Near your Cruise Port Montego bay or Montego bay.
Jamaica's bountiful marine life and captivating reef make this the ideal choice for beginners and experts to go scuba diving in Jamaica. From our Shore side Location you will be under the direct supervision of our professional PADI- CERTIFIED instructors who will ensure your safety at all times!
No Diving Experience Required.
This is a Shopping Only Tour, Your driver/guide will take you to the shopping villages , and areas for the "best deals" on offer nearing you Port,Montego bay or Montego bay , Jamaica ,for craft,art,duty free, Rums,Coffee,souvenirs etc.
While not the Majestic heights as Dunns River Falls This Natural Oasis Don't need 600ft to show off nestled in the lush Tropical Gardens , with its water coming from the rocks this is a paradise on the island of Jamaica, for Those without the legs for climbing this is your waterfalls experience. Book Early!
Yes you can have more than one tour in Montego bay with our Combined tour excursions This Combo offer makes you explore and then have a wet fete at the Dunns River Falls after exploring the inner world of theGreen Grotto Caves .
Our Montego bay Mystic Mountains and Dunns River Fall Combo Tour is a unique one it offer so much to do in such little time therefore maximizing your Montego bay excursion , off shore excursion, this combo is one of the popular Combo Tour Excursion on the island.
A SightSeeing Tour of the city of Montego bay and it's environs Hip strip, City Center Combined with the Martha river Rafting tour Montego bay Jamaica, designed to mello you out with some thing interesting all the time This Combo Is worth the Time Book it as a part of your Montego bay excursion
This Combo offer is a very exciting one that put together the Beach trip along with a Sightseeing exclusive tour of The town and locale visit the places of note ,relax on the Jamaican beach if that's how you want to spend most of your day
Want to see the under-sea world of reefs fish , coral, but don't want to get wet? Then the Glass Bottom Boat Tour is your best choice, step Aboard a specialized Glass Bottom Boat you will explore Jamaica's crystal clear waters and extremely beautiful shallow reefs. This Trip has a Snorkeling Add-on Feature so you can do both the boat ride and add the Snorkeling.swimmers and non-swimmer an ideal trip the family all ages.
See Montego bay and Montego bay from above at a height of 600 plus feet Admire the beaches, coastline and beautiful crystal clear waters of the Jamaica like you have never seen before.

Montego bay Shore Excursions
Montego bay Beach Trip
Negril Jamaica Beach Trip & Sightseeing Tour
All Inclusive Family Resort Day Pass
Montego bay Adults Only All Inclusive Resort Day Pass
Dunns River Falls
Montego bay Shared City Highlights Tour
Bird Feeding Private Tour
Horseback Ride "N" Swim Excursions
Montego bay River Rafting Tour
Montego bay/Montego Bay Sail and Snorkel Private Tour
Montego bay-Montego bay River Tubing Tour
Green Grotto Cave Explorer Tour
Mystic Mountains Rain Forrest
Montego bay Deep Sea Fishing Adventure
Montego bay/ Montego bay Golfing Excursion
Montego bay Scuba Diving Adventure
Shopping Only Tour Montego bay /Montego bay
Montego bay Mayfields Water Falls Tour
Montego bay Cave Explorer & Dunns River Falls Combo Tours
Mystic Mountains & Dunns River Falls Combo Tour
Montego bay River Rafting & Montego bay SightSeeing Combo Tour
Montego Bay Highlights & Beach Trip Combo Tour
Montego bay Glass Bottom Boat Tour
Montego bay/ Montego Bay Parasailing Adventure
Montego Bay Cruise Ships
Express Jamaica Travel
Terms
Contact Us
Montego bay Cruise Excursions by Ship
View excursions by Cruise Line and Cruise ship. Please click on the name of your cruise ship below to view Excursions that are compatible with the arrival and departure time of your ship.
If your cruise ship is not listed, please contact us as we are in the process of adding additional ship..

Carnival Cruise Lines

Royal Caribbean Cruise Lines