THIS MONTH'S SPECIAL



TOURS DESCRIPTIONS

Wet and Wild
Dunns River Falls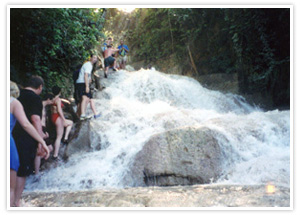 No trip to Jamaica is complete without visiting the most famous falls in the Caribbean, Dunn's River Falls. Enjoy a leisurely ride along Jamaica's scenic North Coast to Ocho Rios, the shopper's paradise. Climb six hundred feet of cool, refreshing water as it cascades over natural limestone terraces. Experienced guides are provided to assist you when ascending the rushing waters as it plunges directly into the pristine Caribbean Sea. After a long climb your driver will escort you to the well know Ruin's Restaurant to have a mouth-watering lunch. After a long yet wonderful day, you can relax and take pictures as your driver takes you back to your hotel.

Days of operation: Mondays to Sundays
Includes: Round trip transfer from hotel, entry fee (Negril and Ochos Rios only).
Things to take: Wear swimsuit under clothes, bring towel, sun block, aqua camera and aqua shoes.
---
Booze Cruise & Snorkeling (Ocho Rios)

Come and enjoy a day filled with fun and fun-fun aboard one of the coolest Catamarans. You start your sail from a beautiful beach and cruise to the crystal cove for a swim or if you are a snorkeling fan you will have the pleasure of snorkeling in the colorful waters and see the wide variety of underworld creatures. After such fun in the water board the Catamaran once more, enjoy a cool refreshment as you sail pass the emerald hills and a number of waterfalls before reaching and docking at Jamaica's most famous Dunn's River Falls. You and your guide will climb the 600 feet waterfalls and through the lush tropical rain forest. The fun has not ended as yet on your sail back let your body lose and move your waist to the latest Reggae and Soca dance tunes and enjoy sipping to our Red Stripe Beer and Rum drink.

Days of operation: Tuesdays, Wednesdays, Fridays and Saturdays for day cruise.
Includes: Pickup from Hotel entry fee
Things to take: Take Towel, swimwear sun block lotion, Aqua camera and shoes and money
---
BOOZE CRUISE & SNORKELING (NEGRIL)
Come aboard one of Jamaica's finest catamarans and sail the turquoise waters of the Caribbean. Join the crew on board for what will be an entertaining and fun-filled adventure. The Catamaran will take you sailing to the best swimming and snorkeling spots on the harbor. View the fascinating underwater ecosystem of one of Jamaica's Marine Park. pre-book this tour to lock in the best rates they may change according to volume of clients.
---
Dolphin Cove Swim
Enjoy a leisurely ride along Jamaica's scenic North Coast to Ocho Rios, the shopper's paradise, to the beautiful Dolphin's Cove. Your experience of a lifetime begins with an interesting and informative presentation about dolphins and their habitat. You are then taken on a jungle trail where you will experience the many different native animals, plants, birds and reptiles. You are now ready for the thrill of a lifetime as your personal trainer takes you for an unforgettable 30-minute swim with the playful and friendly dolphins. As you enter their home and frolic with these magnificent gentle mammals you can stroke and pet their smooth skin, get kissed, and even get pushed by the dolphins around the cove. Experience for yourself the unique feeling of awe dolphins inspire by their profound intelligence and beauty.

Days of operation: Mondays to Saturdays
Includes: Round trip transfer from your hotel and entry fee, tour (Negril and Montego Bay only).
Things to take on Tour: Take towel, waterproof camera, sunscreen, swim wear and money for lunch
---
Dolphin Cove Touch
Enjoy a leisurely ride along Jamaica's scenic North Coast to Ocho Rios, the shopper's paradise, where you will be taken to the beautiful Dolphin Cove. You will take a Jungle trail, a 20-minute program for children and adults alike, and enjoy the company of the many different native animals, plants, birds and reptiles. Learn about Dolphins in an introductory presentation and have an encounter with the dolphins from the security of the shallow waters. Being extremely sociable, dolphins enjoy your company as you caress and touch them. You're guaranteed to fall in love with these most captivating of mammals

Days of operation: Mondays to Saturdays
Includes: Round trip transfer from your hotel, entry fee, tour and (Negril and Ochos Rios only).
Things to take on Tour: Take towel, waterproof camera, sunscreen, swimwear and money for lunch.
---
Adventure
MYSTIC MOUNTAIN AND RAIN FOREST
Welcome to Rainforest Bobsled Jamaica at Mystic Mountain, the hottest new destination in Ocho Rios, Jamaica.The Rainforest Bobsled Jamaica at Mystic Mountain is over 100 acres of property stretching from the coast road entrance near Dunn's River Falls to over 600 feet above sea level at the peak of Mystic Mountain.
This attraction for all ages, provides a dynamic tropical forest and ecosystem with three unique and exhilarating excursions including: Sky lift Explorer, Bobsled Jamaica and Tranopy you just have to take the bobsled if nothing else
Rainforest Bobsled Jamaica at Mystic Mountain will ensure that your event is unforgettable, offering outstanding facilities and exceptional service.
---
Helicopter Tour
Fly the skies in our Helicopters and see Jamaica from the skies the craft which can accommodate up to four(4) passenger you will travel the coast of Jamaica and into the built up areas our cities, our places of of fame this is a one in a life time experience why not experience it in Jamaica , you must bring a camera for this memory, your captain a skilled pilot will show the beauty and splendor of f this island, now go ahead and boast that you did. tours can be had in 20 minutes 30 minutes or one (1) hour packages.
---
YS Falls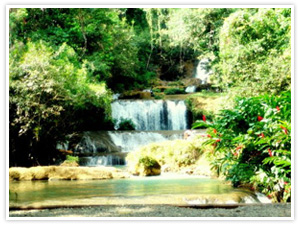 On your way to the YS Falls you will discover the beauty of the South Coast while passing through Middle Quarters dubbed the "bread basket" of Jamaica. Opened in 1990 the YS Falls is a nature-based attraction offering the opportunity to experience the beauty of the waterfalls surrounded by flora and nature, many indigenous to the area. There are seven waterfalls, several which cascade into natural pools also a calm breath taking picnic area For children and others unable to swim is a natural pool, fed by underground and above ground springs. Enjoy munching some of our Jamaican delight and visit a bar and gift shop.

Days of operation: Tuesday to Sundays
Includes: Roundtrip transfer from hotel
Things to Take: Camera, sun block, Towel and money.
---
Black River Safari Tour
Discover the beauty of the South Coast with an hour and one-half boat ride by motor launch up Jamaica's longest river. You will visit the famous wetland area called the Black River Morass where you will witness crocodiles and over 100 species of birds native to the area. You will travel six miles while your captain informs you about the ecology and history of this untouched natural area. Concluding your tour you will be offered to sit and relax to a traditional Jamaican Lunch.

Days of operation: Mondays to Saturdays
Includes: Roundtrip transfer from your hotel, entry fee
Things to take on the tour: Dress comfortable and wear your sun block and take your camera
---
ROARING RIVER AND CAVES
A former slave plantation the Roaring River Estate near Petersfield in the parish of Westmoreland is named for the gushing waters of the river. Now an heritage and nature park, you can get a taste of Jamaica's cultural heritage and enjoy its natural beauty. gushing water that feed to a huge river the cabarita see the unique cave stucture and the layout of a natural treasure.
---
Sightseeing & Shopping
HORSEBACK RIDING
Saddle up your horse and travel through a farming community before enjoying the moment of swimming with the horses ride through plantation and countryside in some a some areas you will ride in the waves of the caribbean sea guide your mild animal with gentle action.
---
APPELTON RUM TOUR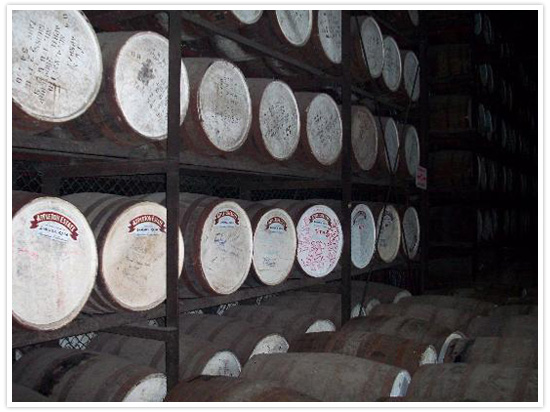 On your way to the Appleton Estate you will smell the spirit a mile away. You will take a journey in time and visit the legendary Appleton Estate rum distillery and discover how Jamaica's world famous rum has been produced and blended over the centuries. While there you are welcome to sample the freshly pressed cane juice and learn about the historical production of Appleton Rum. Get to sample the "wet sugar" out of the Copper Pot. Appleton Rum is known as "The Spirit of Jamaica" and is world-renowned holding numerous prestigious awards. The 45 minutes tour will intrigue you see the process that bring about the brand and after you have written your last will and testimony you can try the lethal overproof rum After such a long and beautiful day you will be served a mouth-watering and delicious country style lunch.

Days of operation: Mondays to Saturdays
Includes: Transportation from your hotel, rum tasting in the Appleton Lounge, complementary bottle of rum.
Things to take on Tour: Take sunscreen and camera.
---
MONTEGO HIGHLITE
In addition to its beautiful beaches and hotels come and learn about Montego Bay. Your tour will take you to interesting landmarks in Montego Bay such as the Old Fort which defended the town in the 15th and 16th centuries with its battery of three cannons and the powder magazine that still remain. Stroll your way to the Town's Square where you will visit the old Court Building that is now the Civic Center. A stone's throw away visits The Cage that was used as a overnight jail for runaway slaves, disorderly seamen and vagrants. Continue your journey to the Parish Church of St. James built in 1778 and then over to Burchell Memorial Church. There Sir Samuel Sharpe one of Jamaica's national heroes is laid to rest. You will also visit The Dome that was built in 1806 over the creek that was used as a water supply for Montego Bay. You will then complete your tour where your driver will take you to the Town City Centre for duty free shopping or to the local craft markets located at Harbor Street and Fort Street.

Days of operation: Mondays to Sundays
Inclusion: Pick up from Hotel
Things to take: Camera and Money
---
NEGRIL SIGHTSEEING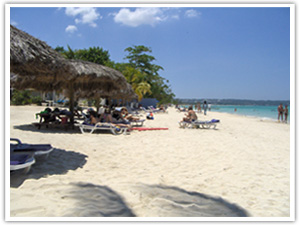 Travel with us to beautiful Negril, which is located west of Montego Bay. Get to know Negril better by getting a highlight history of the town. Come with us to Negril 7 miles beach where you can enjoy swimming in the water or just laying in the sun and having a sun bath. Enjoy water sport activities. After a well spend day at the beach you then taken to the Towns Craft Market where you purchase our special Duty Free Jamaican craft items, custom made Jewellery and clothing for your love one back home. Now you are up for the most exciting part of your tour where you are taken to the Famous Rick's Cafe to watch the most beautiful Sunset that your eyes have ever seen. Don't be afraid feel free to take picture that you can use for postcard in the future. After magnificent days well spend you can relax and relive your day as you head back to your hotel.

Day's tour operates: Mondays to Sundays
Inclusion: Round trip transfer from hotel
Things to take on tour: Take sun block, money, swimwear and towel

Lazy

Martha Brae Rafting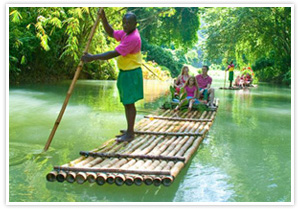 Your Martha Brae Rafting tour starts with a short ride to the Falmouth region and upon arriving at Martha Brae you will be entertained by the village Mento Band and can visit Martha's Herb Garden. You then take an exhilarating river ride on a bamboo raft and will be captivated by the intriguing legend of Martha's gold hidden away in a mysterious cave yet to be discovered. This 3-mile ride piloted by a trained raft captain relaxes your mind and body as it renews your spirit. Have a complimentary rum punch or fruit drink to quench your thirst. Take this time to revive your love for nature's beauty, evidenced in picturesque snapshots during this 90-minutes journey through the verdant countryside of a tropical splendor. See Rafter's village along the river a fascinating garden setting with tropical floral blooms adorning the manicured lawns of the village.

Days of operation: Mondays to Saturdays
Includes: Roundtrip transfer from Hotel, Complimentary Rum Punch or Fruit Drink
---
SUNSET CRUISE
Located on the beautiful Coast in come and taste a Jamaican evening cruise. Come aboard our cruise boat for a special opportunity to blend romance and party vibes with a very unique Jamaican experience sunset . The spectacular tropical and green flash at sunset sets the stage for a memorable ambiance. The DJ pumps up the volume on our famous dance party where you can participate in the WILD PARTY or just enjoy the ocean escape as we conclude this special evening. This is the perfect way to savor the real flavor of Jamaica.
---
Negril Sunset Tour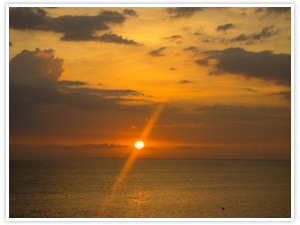 Travel with us to beautiful Negril about an hour west of Montego Bay. Get to know Negril for it beachNegril's Seven-Mile beach known as one of the ten most beautiful beaches in the world. You are then taken to the world-famous Rick's Caf